Care Kori Na -Star Jalsa
Care Kori Na -Star Jalsa TV Serial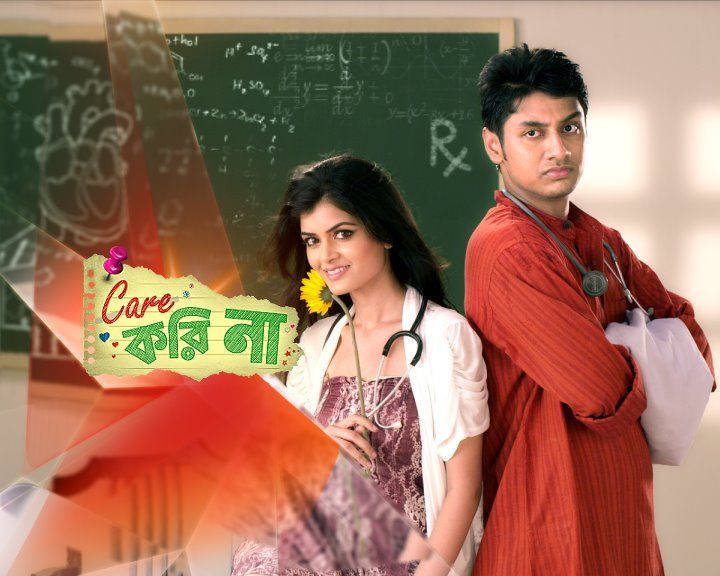 Story Line :
A first year girl falls in love with a third year guy in the same Medical College. Journey of a rich girl brought up with love and care through the realities of life outside the fairytale shelter. College life and love life of some young 'uns.
Star Cast :
Madhumita Sarcar as Juni (Jahnabi Mukherjee)
Farhan Imroze as Krishnendu
Rohit Mukherjee : Junie's father
Dolon Roy : Junie's mother
Baishakhi Marjit : Krishnendu's mother
Abhinandan : Sanju
Others : Dr. B D Mukherjee, Kunal Padhi among others.

.
16th July 2012 onwards >>>>

Episode : Care Kori Naa : 16th July 2012
Care Kori Naa : Promo :
::::
::::
More >>
.

Tag : Care Kori Na Star Jalsa watch latest episode free online, complete cast youtube video, vid, download title song free, mp3, wallpaper, pics, photo, image, facebook, twitter, make money, Krishnendu, Care Kori Na starts, actor actress what is the real name who plays the role of Juni , Krishnendu, starting on which date ?

Comments submitted from other visitors

Name :

bikash majumder

Comment:

This is my favourite tv serial.

Name :

Brindaban Barik

Comment:

I like care kori na very much.................

Name :

Rupam

Comment:

Amar cerial ta khub valo lage....Rat 10 tai,sokal 10 tai r Dupur 3:00 te ami cerial ta dekhi...Miss kori na...I love Care Kori Na.....

Name :

samrat

Comment:

i like madhumita very much

Name :

chandan pal(haipal,west bengal)

Comment:

its awesome ....chemistri o khub valo

Name :

sahid khan

Comment:

uff ato dine sasuri maer jhagra bad die 1ta serial hobe ,,,amar toh bhaloi mone hoche hobe dekha jak

Name :

MEJANUR

Comment:

VERY NICE

Name :

jewel rana

Comment:

i love care kori na.

Name :

pritam roy

Comment:

best.... krishnendu and juni in BIMS...

Name :

PALLABI MODAK

Comment:

i love you krishu i want a bf jst lyk u..

Name :

ATASI

Comment:

I LOVE "CARE KORI NA".

Name :

pritam ghosh

Comment:

i love cear korina

Name :

pritam ghosh

Comment:

i love cear korina

Name :

RAJAT MAITY(Purba Medinipur)

Comment:

My fevarite song and dramma serial

Name :

Raj Masum

Comment:

I am working in P&G ( Procter and Gamble ). Company amake accommodation diyeche Bodge Bodge e thakar jonno but ami ratre chole ashi sudhu matro "CARE KORI NA" serial ta dekhar jonno bcoz its so nice to see.....and amake onek kichu mone koriye dey
More posts, Page # :
<
1
&nbsp
2
&nbsp
3
&nbsp
4
&nbsp
5
&nbsp
6
&nbsp
7
&nbsp
8
&nbsp
9
&nbsp
10
&nbsp
11
&nbsp
12
&nbsp
13
&nbsp
14
&nbsp
15
&nbsp
16
&nbsp
17
&nbsp
18
&nbsp
19
&nbsp
20
&nbsp
21
&nbsp
22
&nbsp
23
&nbsp
24
&nbsp
25
&nbsp
26
&nbsp
>